"Plan B Is Always Out There"
Press about us
23 December 2021
UTLC ERA CEO Alexey Grom About Transportation Records and Border Jams
The booming container traffic between China and Europe has brought about a 25% increase in traffic to JSC UTLC ERA, an operator of the rail transit route via Russia, Kazakhstan and Belarus, even as compared to the all-time high performance in 2020. UTLC ERA CEO Alexey Grom spoke to Kommersant about the reasons for such rapid growth and discussed whether it was only due to increasing sea freight prices and whether it was possible to transport more.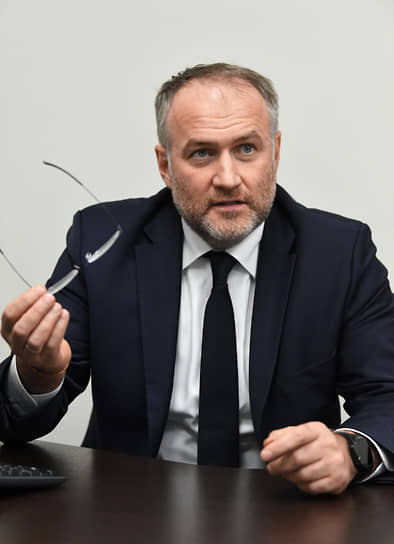 Alexey Grom
Photo: Dmitry Dukhanin, Kommersant
— How did this year turn out for UTLC ERA given the growing demand for container traffic on a global scale?
— The year has been challenging but exciting: there have been a lot of customer requests, probably more than we expected. It led to certain bottlenecks that we had to deal with during the year. The 2021 boom of logistic routes was apparent not only in the rail transport, but also in the sea and air transport sectors. The main challenges during the year were a great number of abandoned trains in the 1,520 gauge track regions (countries with the Russian 1,520 mm gauge track – Kommersant), and overloaded terminals. Here, I would like to note that such non-operational downtime was primarily caused by the difficulties arising in the adjacent infrastructure systems. Most often, such infrastructure systems were not ready to accommodate the declared traffic volumes, despite fully approving the planned volumes in advance.
Another reason is the reduced capacities caused by COVID response actions. For instance, early in the year, when China dramatically cut the number of trains accepted at the border with Kazakhstan, the issue of abandoned trains also arose in the KTZ (Kazakhstan Temir Zholy, Kazakhstan railways – Kommersant) infrastructure. Nevertheless, despite any barriers, the Eurasian railway traffic system has proved to be available, reliable and predictable in the current situation.
We have eventually achieved record-high traffic volumes, both on the China – Europe and the Europe – China routes. We are finishing the year with excellent performance and, most importantly, with an understanding of our way forward: we should build up our back-up capacities in order to accommodate the future growing demand for our railway services.
— You have mentioned that the Europe – China direction was also growing.
— Certainly, the growth has mainly been observed in the direction from China to Europe. According to our colleagues, a considerable part of production facilities have relocated from Europe to China. Hence, the volumes dispatched from Europe appear to be lower, but only in proportion to the Chinese traffic volume. Yes, the balancing (the ratio of traffic from and to China – Kommersant) has deteriorated as compared to the last year, but this was due to the much larger volumes handled by China. However, after 11 months, the traffic volume in our loaded container services from Europe to China equaled 203,500 TEUs and grew by 39%.
— What traffic volume do you expect to achieve at the year end? What is the anticipated financial performance?
— We expect to achieve 680,000 TEUs by the year end. It is approximately 25% more than in 2020, which was a record-breaking year as well. I believe our financial performance will also be close to all-time high values for UTLC ERA. It was definitely somehow undermined due to the downtime caused by the constraints in the adjacent 1,435 mm infrastructure systems (the gauge track in Europe and China – Kommersant). But you have to inevitably pay a price for such considerable growth. However, I believe this financial performance will gain us a foothold in the first half of top 500 Russian companies.
— How unique is the present situation? Could it be followed by declining interest in the rail transportation or by a drop in the global trade volumes?
— Every year since 2016 has been unique for UTLC ERA. The year when nobody believed in 1 million TEUs, and we worked at establishing our One Million Club. The year when new corridors were opened, such as the Kaliningrad or Finnish corridors, in which few believed as well. The year when we focused on European consignors and increased the traffic from Europe, held a total road show in the countries which could potentially be interested in our railway route, and started to provide regular services for deliveries to Great Britain. We initiated rail transit for sanctioned products. We strove to persuade the customers that the multimodal route via the ports of Kaliningrad Oblast was effective.
At the time, our Chinese partners objected: "We did not shift from the sea transportation to the rail transportation to come back to the sea in Kaliningrad." We insisted that it was a different, quick sea, which was in no way inferior to the Polish rail routes. And naturally, two pandemic years with their anti-COVID restrictions and constraints caused by repairs in the European infrastructure, which were actually very unexpected. For instance, we received a notice of reconstruction in the border area with Belarus as late as two weeks before the traffic limitations were introduced.
Every year was unique, and I do not think 2022 will be an exception. Today, we often mention the concept of "tolerance to uncertainty". This is our reality. But we know exactly what we need to do in 2022. And we are sure to come up with something new. We do have new projects developed for new corridors, new growth points of IT support for our business, and I am certain they will gain good momentum. We will certainly do our best to maintain the positive trends. I think if the world had a nomination for the most dynamic business in the transportation industry, we could, together with our shareholders, be among the top contenders.
— The interest in the rail transportation is to a large extent stirred up by the protective sea freight rates established since the second half of 2020. In your opinion, how long will they apply and, in general, how do they contribute to your growing traffic volumes?
— The protective freight rates have certainly made the customers turn to land transport. But it is not the only reason.
We already demonstrated great progress before the pandemic years and the vessel incident (Ever Given container ship incident in the Suez Canal – Kommersant) with the average annual growth at 60%.
— Do you mean that should the freight rates miraculously drop from $12,000 to $2,000, the rail transportation option will not be given up by all customers?
— I doubt the rates could drop to the 2012 or 2008 levels, since nobody wants these crises to be repeated. In my view, any logistics (especially those connecting two major world economies, namely Asian and European) shall ensure a comfortable margin for all parties to the traffic process. Yes, there was a period when shipping companies were run at a loss in order to stay afloat. Today, they have no reasons for dumping the rates again and going into the red zone. This is actually evident from the degree of cooperation among sea carriers who create alliances, including those between themselves. I do not expect the rates to fall to the values that would fail to create value for these companies.
Even if there are any adjustments, I expect railway traffic to stay competitive, both in terms of price and, definitely, in terms of such traditional rail transportation advantages as speed, reliability, all-weather capability, as well as environmental friendliness, which is currently a top priority. We have become – or have always been – largely independent of the sea freight cost. In 2016, we achieved our first 100,000 containers in the UTLC services, when our transit tariff was several times higher than the sea freight prices. Then, by drastically cutting the costs, we made our tariff more competitive, but it was still several times higher than the sea freight tariff. In 2017, we doubled our traffic again. The situation remained similar in 2018 and in 2019, and it was only later that shipping companies started raising their rates.
— As to the above-mentioned issues in the adjacent infrastructure systems of Europe and China, how sensitive you were to such issues?
— We are ahead of the strategic traffic volume plan approved in 2016. The railway is a systemic sector. The planning issues are strictly regulated by the railway administrations of all Eurasian countries, and stringent standards are in place. A total traffic volume growth by even 10% above the plan always entails certain issues, since accommodation of new volumes is connected with public and private railways, locomotives, cars, etc.
However, the smooth and prompt decision-making process throughout the 1,520 mm region enabled us to go ahead of schedule. There were no significant disruptions in 2021. I would also like to thank our European partners. Despite the issues that may arise, we do understand that we would not have accommodated our volumes had they not promptly adapted to the new traffic flow and new technologies and had they not been flexible with our shareholders at the approval stage.
— Could you have transported more?
— Yes, we could. According to our estimate, we could have transported 20% more in 2021. We did receive such requests. And our customers also asked us to try and get the European or Chinese infrastructure to approve a larger number of trains.
It is important to understand that approval of additional trains is not limited to China, Russia, Kazakhstan, Belarus or Poland; it is a comprehensive matter. This increase cannot be agreed with only one party, as another might decline.
Generally, if we had an opportunity to obtain more approvals from our European and Chinese partners, the 1,520 mm infrastructure would be able to accommodate this traffic volume. Hopefully, we will be able to achieve these extra 20% next year.
— Are the issues in the Chinese infrastructure system caused solely by COVID response actions? Or are there other reasons?
— It is clear that COVID response actions have made an impact. But I do not think that the Chinese railways are much different from the railways in other countries in terms of prospective planning. The growth in excess of the anticipated rates has also led to constraints in the main Chinese railway network. For instance, we were aware of abandoned trains near Urumchi, and the transit time in the Chinese railway system has considerably increased. This shows they also faced some challenges with this traffic volume. Early in the year, we had a meeting on traffic volumes, where the railway administrations planned a 10% or 12% growth. But we ended up with 25%.
— Was it a meeting on traffic volumes between UTLC ERA shareholders?
— No. It was a meeting on traffic volumes covering all transit corridors. However, since a large part of traffic volumes between China and Europe passes through the base corridor of UTLC ERA, we are naturally among the participants.
— Has the issue on the border between Belarus and Poland also arisen out of the unforeseen traffic volume growth?
— The cargo base potential is higher than we or our partners indicate in our strategic plans. We need to generate safety margins for future growth and go ahead of schedule. Today, the focus along the EAEU western borders should be on the technology and infrastructure development. For instance, a new terminal was launched this year on the border between Kaliningrad Oblast and Poland.
Multimodal traffic also ensures a good safety margin. On the other hand, we recently received a telegram from the Polish Railways saying that operators of transfer trains shall now present a negative PCR test at the border. We understand the reasons behind this, but it is just another technological issue that we have to address with the railway administrations.
— How is the Kaliningrad direction developing?
— This year, we transported unprecedented volumes through the ports in this region exceeding 120,000 TEUs. For reference: in 2016, we transported 100,000 TEUs through Brest. Now, Brest has tripled the traffic volume and is making plans for further growth. In addition, satellite terminals are being opened close to Brest, namely Bruzgi, Svisloch. I think the Kaliningrad direction can generally reach the volume of half a million containers within approximately two years, or three years as a maximum. I believe we have all infrastructure capacities, technologies and reserves to proceed with optimization. The development of this corridor is a great ambitious task not only for the railway companies in the 1,520 mm region, but also for the sea ports of Kaliningrad Oblast, Northern Europe and Scandinavia.
— Is there sufficient sea infrastructure to support this direction?
— We cannot identify any link in the chain as the main one. The system works when everyone is responsible for their task areas. In December, we signed a memorandum with two ports and a railway: we assumed part of the responsibilities within our business model perimeter. The railways and the ports did the same. We are simultaneously negotiating with the ports of Northern Europe and Scandinavia who are ready to commit to certain obligations in order to provide adequate capacities in terms of the short sea haul and cargo handling in the ports. Hence, without highlighting any main aspects, I would say that the performance depends on effective cooperation.
— What is your progress on the route where cargoes are delivered across the border with Finland and further transported by sea?
— This is also a multimodal route. I believe that the Finnish route has not been utilized even to a half of its transit capacity so far. I have looked into the matter not only from the standpoint of our Eurasian Economic Union, but also as a part of Nurminen Logistics team where I have long been a member of the Board of Directors. I see the route gradually developing to include Finnish stations and ports.
Essentially, this project does not differ much from what we are doing in Kaliningrad. I expect it to be a bit more expensive because of higher tariffs in Finland, but it will surely attract its customers and supporters, as it can target its own pool of countries, such as Sweden, Norway and Denmark. I believe this route has a large growth potential, and we need to start daily service in 2022. I remember talking to a manager of a big transport company in 2015, who assured me that there were no transit routes through Finland at all and that it was wishful thinking.
— What is your progress on the Finnish route?
— Eventually, we do not report on this progress, because it is fronted by RZD Logistics jointly with Nurminen Logistics. We provide our rolling stock if available. Since many trains through and to Finland (from Asia – Kommersant
Even if the route passes through Naushki, Zabaykalsk and Far East ports instead of Kazakhstan, we realize that its solid process and service performance generally impacts the loyalty of freight owners to transit rail traffic. There is not a single customer in Europe or in China who would put their eggs into one UTLC ERA basket. Given a huge market potential, which exceeds 20 million containers, availability of several effective transit routes is beneficial for all operators in this sector, for all infrastructures and for everyone involved in this rail traffic process.
— You do not work with Far East ports, do you?
— No, we do not. We strictly follow the business model approved by our shareholders.
— Why does not UTLC ERA raise the rate? Can you do it at the management level, or do you have to obtain approvals from all railway administrations in the 1,520 mm region?
— Throughout the history of our operations, UTLC ERA has both increased and reduced the rates. At the initial stage, we worked on the costs and accordingly reduced the rates. By 2015, our rate became approximately 30% lower. But we increased the rates as well. When a new terminal was opened at the Altynkol station in Kazakhstan to decrease the burden on Dostyk and to support the growing traffic volume, Altynkol was at the initial stage of its operation and was not well-known among Chinese or European consignors, so we went in for a kind of investment: we set the tariff at the lower profitability limit in order to increase the container traffic flow in this direction. When the terminal became fully operational, we increased the rates to the Dostyk level, thus bringing the route back to its target margin.
If the question rather sounds like this: "look at what is going on in the sea freight market, and you are stuck at the 20-year old infrastructure rates," the key point here is the position of our shareholders, which I fully share. It is based on their wish to make rail tariffs predictable and long-term, and thus to achieve customer loyalty without yielding to the speculative trends in the market. It is worth noting that rail transit traffic is one of the most profitable services in the container traffic system, as the tariffs are fixed in Swiss francs. They are virtually free from devaluation, so it is quite reasonable that they have remained unchanged for 20 years.
— Still, will you change the rate?
— As for any future changes, I think there will be some, because the costs and expenses are growing after all, and we realize that the railway will have to respond, for example, to multi-fold increase in the metal or energy cost. The tariffs may change as decided by infrastructure or carrier companies.
But I intuitively feel that should such changes occur, they will be introduced based on reasonable numbers and at a pace different from the pace to which the consignors engaged in sea container traffic had to adapt when the rate soared by ten times in two years.
As for UTLC ERA, the infrastructure accounts for over 50% of the tariff. Our service is fully made up of costs, most of which are received by our shareholders in the form of the infrastructure tariff, additional charges and fees for transshipment in case it is done at the carrier's expense. We also have the car component. And, naturally, there is the company's profitability which cannot be ignored by a joint-stock company.
—Going back to the car component, some time ago UTLC ERA decided it needed a fleet of its own. What is the progress in this area?
— We are adapting to the changing market. For instance, we sent a proposal to our shareholders to modify our operating model, as the world has changed since 2016 when it was approved, and we should keep up with the world. The decision to create our own fleet envisaged three options, and this plan has not changed: own fleet construction, car financial leasing and hire, or the so-called car use contract.
Thus, we now have a fleet of nearly 10,000 80-feet cars. Our fleet is the second largest fleet in the 1,520 mm region. We might probably need an additional fleet to cover future growth. But in respect of these 10,000 to 15,000 cars, we can quickly change our approaches: for example, utilize a leased fleet, participate in financial leasing, hire a fleet on the operating lease terms, or work under car use contracts. In 2022, we will implement the 2021 program, under which we will obtain a considerable number of cars on the financial leasing terms.
— Do you intend to buy from the manufacturers?
— Directly? So far, we think this approach is less appropriate for our business model. Neither we, nor our shareholders want this fleet to be a burden: if we get a new car under a new contract, it should operate on better terms than we currently have. I daresay our leasing rates and the operating terms for our cars are perhaps the best in the market.
— Do you have a key leasing company?
— No. We work based on tenders only, and we have no base company. Not long ago, I talked with the representatives of an adjacent infrastructure system, and they asked me about our effective rate for rolling stock lease. When I named the figure, they responded by expressing concern that they would hardly be able to achieve such parameters. This is yet another confirmation that this area in our company is addressed by true professionals.
— Many operators currently consider entering the dry terminal construction business. Are you also interested in this?
—We are certainly interested in this business, primarily in terms of usage. Our strategy provides for an opportunity to enter into such projects subject to the approval from the shareholders. Regarding terminals, the key is their proper location and compliance with the adopted business model. We cooperate with private terminals both on the Chinese and the European borders and obtain new capacities for our services. We are so far satisfied with working under contracts. But in reality, everything may change pretty quickly. That is why, plan B is always out there.
We are improving ourselves for your convenience. You are now visiting the pilot version of UTLC ERA's new website.
The website is still under development and is operating in the test mode. To go to the previous version,
please click here
.